Caroline Picard and Dr. Chuck Cannon:
Science, Science Fiction, and Imagining Nature's Future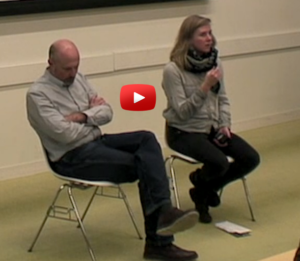 click the image to watch the video
Caroline Picard is an artist, writer, publisher, and curator who explores the figure in relation to systems of power through ongoing investigations of interspecies borders, how the human relates to its environment and what possibilities might emerge from upturning an anthropocentric world view. Her writing has appeared in publications like ArtForum (critics' picks), Flash Art International, Hyperallergic, Paper Monument, The Seen, and e-flux's live blog. In 2014 she was the Curatorial Fellow at La Box, ENSA in France, a member of the SYNAPSE International Curators' Network of the Haus der Kulturen der Welt in Berlin in 2015. She is the Executive Director of The Green Lantern Press—a nonprofit publishing house and art producer in operation since 2005—and Co-director of Sector 2337, a hybrid art space/bar/bookstore in Chicago. Her first graphic novel, The Chronicles of Fortune, is due out this spring via Radiator Comics.
Dr. Chuck Cannon, Director of the Center for Tree Science at the Morton Arboretum, brings a broad perspective on forests and all of the things that live in them. Starting out in 1989 as an undergraduate research assistant to study primate behavior in the equatorial rainforests of Indonesian Borneo, he quickly learned that trees were the most important (and the most poorly understood) element in any forested landscape. His commitment to tree science has remained firm since that early insight, and his work has taken him to over a dozen countries and involved a wide range of scientific endeavors, from basic species description to on-the-ground forest management policy. He leads the many tree scientists at the Morton Arboretum in the shaping and expansion of our knowledge of trees and forests around the world.
Co-sponsored by SAIC's Departments of Liberal Arts and Photography