Nance Klehm and Brian Holmes:
Chicago – Engine and Garden of the Anthropocene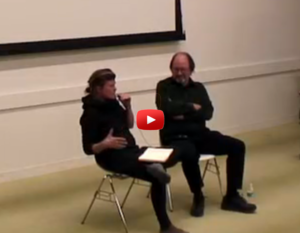 click the image to watch the video
If we have entered a new geological epoch because humans have extensively impacted the planet – that's the so-called Anthropocene – then cities have been one of its drivers and hallmarks. Nance Klehm and Brian Holmes discuss various ways that Chicago is both an engine and instance of the Anthropocene.
Nance Klehm is a social ecologist who cultivates and forages medicines and edibles, keeps bees, has chickens and quail, co-runs a seed bank, and stewards Pachamanka, a 50-acre conservation property in the Lower Driftless area of Northern Illinois. She is the Director of Social Ecologies, an organization working internationally on waste stream revisioning and reallocation, soil contamination and fertility, and agro-ecological practices.
Brian Holmes is an art and cultural critic, cartographer and political activist who lives and works in Chicago after many years in France. He contributes to exhibitions such as the recent "Petcoke: Tracing Dirty Energy" at the Museum of Contemporary Photography, Chicago, and has written in English, French and Spanish on art, free cooperation, the network society, political ecology, and grassroots resistance.  He is a member of the Compass as well as the recently founded group Deep Time Chicago: Cultural Change in the Anthropocene.
Co-sponsored by the Departments of Liberal Arts, Photography, Conversations in Art & Science, and the spring 2017 Studio Symposium course Anthropocene: The Future is Now (co-taught by Jeremy Bolen and Andrew Yang).